The unusual but incredible heritage of India We have been writing on many topics but this time while juggling on what to write, I just thought why not introduce to you with The unusual but incredible heritage of India.
Let's not waste time and start –
1 Hanging pillar- Lepakshi , Andhra pradesh-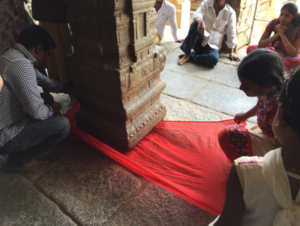 Lepakshi is a village situated in Anantapur district of Andhra pradesh, India. Lepakshi is culturally and archaeologically significant as it is the location of shrines dedicated to shiva, vishnu and veerabhadra. Now let me educate you about the magically hanging pillar in the Lepakshi temple, among the 70 pillars of the temple, one hangs without any support! Visitors pass objects under the pillar to check if the claim is true. This is one of "The unusual but incredible heritage of India".
2 The motorcycle God – Bullet baba, shrine, Bandai Rajasthan –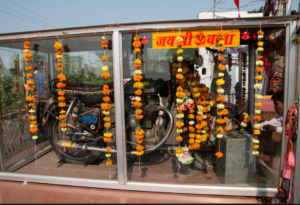 If there is any place in the world where you will come across a shrine where flowers and liquor bottles are offered to a motorcycle, it has to be INDIA! At bandai, jodhpur, Om Singh Rathore died when he crashed his bullet into a tree while riding drunk. The police claimed the bike and took it to the station. The next day, the bike was found on the spot of accident. They bought it back to the station emptied the tank and chained it. Yet the bike miraculously found it way back to the accident spot the next day. The motorcycle was permanently shifted to the accident location and the om baba (or the bullet baba as it is popularly called) shrine was erected. The spirit of om baba is believed to protect the travellers. This is second of 'The unusual but incredible heritage of India'
If you need any help and support for SEO, Content Writing and other related Services feel free to contact us anytime.Calls us or WhatsApp us on 9133987289. You can inbox us on Facebook, or any social media site
3 World's largest monolithic statue- gomateshwara statue, shravanabelagola, karna taka –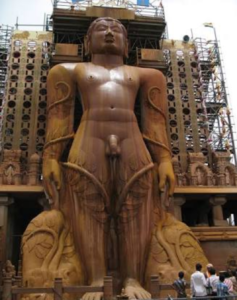 The monolithic statue of gomateshwara also known as bahubali, at shravanabelagola, towers above all else at 60 feet . Carved out of a single block of granite, it is so large, it can be seen even from 30 kilometers away. Gomateshwara was a jain saint, who according to legends, was the first human in his half time cycle to attain liberation. The monolith was built by chamundaraya, a minister of the Ganga dynasty between 978 and 993 CE and is one of the most important pilgrimage sites for jain across the world.
The above list is as per our research and its is just to share the incredible Indian heritage.. Share your views in the comment section.