LED Lighting Guide – Setting a retail shop or a showroom is a serious task as it involves numerous tiffs and toils. Plus the vital mission to be performed by you here is to crack the lighting designs. It is the light that will decide the look and ambiance of your entire place. So, to help you reap your hard work, we are here with LED lighting guide for Showroom & Retail Display. Follow these simple thumb rules and see the magic. Here we go –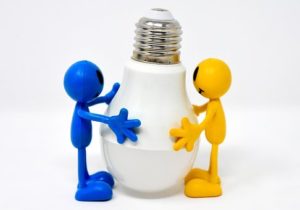 Do you need Content Writing Services; Reach us now!
Create a visual pecking order – Here with the pecking order we mean to design the products layout hierarchy. Using LED display lights here will facilitate your retail shops in numerous ways. First of all, it will generate a contrast look of all your products that will help the customer to get a clear picture of the products displayed plus they can easily distinguish them. Next, the shelves will be well proficient to attract the customers towards itself. The entire hierarchy from the top to the bottom level will look eye-catching.
Backlighting – Though LED lights are cost-effective but using it for every area will not be recommended. Smart use of LED lights can bring a drastic change in your retail and showroom display. When it comes to highlighting a large area, use backlights as it will draw attention towards the hierarchy or shelves created and will give a softer look. This type of lights works well for an LCD video wall.
Vertical placement of LED lights – Fixing the LED lights in a plumbing manner will help your customers in indulging with the layout of the showroom or retail display. Suppose you are dealing in commercial TV business then this is going to be a superior choice for LED lights will linger your customers. As there is an immense need for you to maintain a difference between the TV so that it gets easy for you to make the customer understand the sizes, quality, display, and other factors.
Conventional lighting set-up – Your showroom and retail display should not focus on making the whole space look brighter or vibrant instead should one should focus on the pin-pointing areas to generate leads. Use the LED lights in the areas where you want your customer to approach and take a pause just the same as LCD display. It is the lighting concepts that act as a magnet for the customers to come inside your showroom or retail space with curiosity, and they will inevitably end up buying up the products.
Place LED lights as per the beam angles – This is the most chief area to work on while placing LED lights in your showroom or retail business. Two types of beam lights are narrow and wide. The former is used to highlight any particular product whereas the later is used to highlight a specific area.
By far you must have understood how vital role LED lightning plays in your business. So, welcome your customers by using the correct lighting strategies and boost sales like never before. Thus follow LED Lighting Guide.